Tell us who you are and when you want to sail and the skipper will get back to you.
Phone
(650) 743-1009
Address
Pier 40, King Street, San Francisco, CA
What other guests have said
Success!
"Patrick is a friendly, supportive and knowledgeable
teacher and host. He told us many interesting stories about Bay area, explained which boat devices doing what and gave us a great introduction into on hand steering practice and info about principles of sails trimming ans sailing in general. It was clear that Patrick genuinely wanted us to succeed and made us feel welcome and comfortable at all times."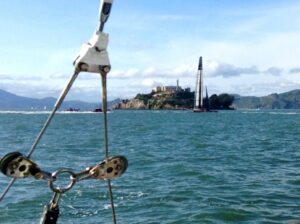 Best gift
"This trip was my present for my girlfriend's birthday… and I couldn't have chosen anything better! Patrick made us feel at home in his sailboat, explained to us a lot of things about sailing and patiently answered countless questions. This experience is very well tailored, with 4 people max (plus Patrick) that's the perfect number to enjoy his pretty large boat in all safety and comfort."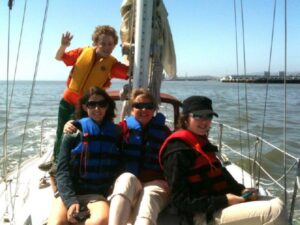 Passionate
"There is obviously a huge advantage to going with a hyper-experienced and passionate guide like Patrick. In our case, the weather was perfect and we had a once-in-a-lifetime experience.
Just to give you an idea of how much Patrick cares about his guests: Two of the participants were a French couple, so Patrick explained everything in both English and French. Everyone had a fantastic time.
Highly recommend this experience if you're lucky enough to snatch a spot!"